It's not always "business as usual" here at Spiral Paper Tube & Core. We recently had the opportunity to work with two greats, Yunhee Min, an artist, and architect Peter Tolkin, both working in collaboration with the University of California, Riverside.
Unlike most other custom orders, theirs called for thousands of light blue paper tubes, dark blue paper tubes, bright yellow paper tubes, forest green paper tubes, followed by an array of pinks, reds and oranges…all with a clean, flat white inside liner.
In addition to the fluctuating colors, the lengths were just as varied.
After numerous intriguing conversations, we felt we had an understanding of their project and began bringing in the custom colored paper. And, truth be told, the colors lit up our factory like never before!
Here's the what the LA Times had to say about their art installation:
Inspired by the writings of Johann Wolfgang von Goethe, who described music as "liquid architecture" and architecture as "frozen music," Min and Tolkin have created an installation that fills the UCR Arts atrium with an undulating form constructed out of 150-foot bands of fabric and more than 17,000 colored paper tubes. 
The installation runs through December 29. The opening reception was held September 29 at UC Riverside, 3824 and 3834 Main St., Riverside, ucrarts.ucr.edu.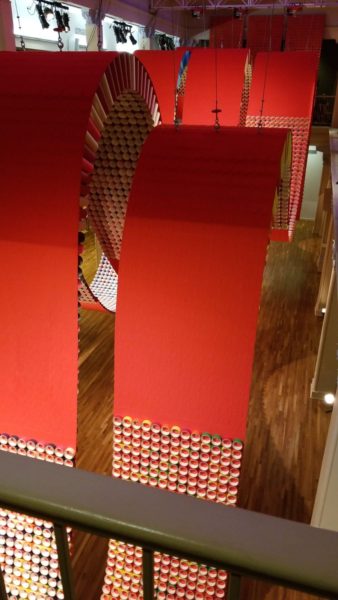 "Yunhee Min & Peter Tolkin: Red Carpet in C is a collaboration between painter, Yunhee Min, and architect, Peter Tolkin. The idea for this project evolved out of Min and Tolkin's shared enthusiasm for music, architecture, and color. These interests let them to Goethe who described the relationship between architecture and music as "Music is liquid architecture; Architecture is frozen music."
Conceived as performative architecture, this large fabric installation functions as both an object to be viewed and a space to be inhabited; a virtual translation of music into three-dimensions. Constructed of fabric and colored paper tubes, its soft, undulating parabolic shape is set in visual relief against the classical proportions, meter, and time signature of Culver Center of the Arts' historic atrium.
Yunhee Min & Peter Tolkin: Red Carpet in C is organized by the Barbara & Art Culver Center of the Arts at UCR ARTS and is co-curated by Tyler Stallings and Zaid Yousef. Yunhee Min & Peter Tolkin: Red Carpet in C has been possible with support from the National Endowment for the Arts, the University of California Institute for Research in the Arts,
Spiral Paper Tube & Core,
Francine Tolkin Cooper and Herbert Cooper, Susan and Jim Crawford, Clara and Tim Daniels, Freya and Mark Ivener, Avery and Miles McEnery, Marla and Jeffrey Michaels, Laurie and Marc Recordon, Jonathan Tolkin, and Barbara H. Hirsch. UCR's College of Humanities, Arts and Social Sciences and the City of Riverside provide support for UCR ARTS programs.
The team that made possible Red Carpet in C
TOLO Architecture participants include Peter Tolkin, Sarah Lorenzen, Socrates Medina, Karl Kachele, Kare Tonapetyan, Parker Amman, Jeremy Schacht, Trenman Yau, Chelsea Rector, and Karl Blette.
Matthew Melnyk from Nous Engineering
Robert K. Williams from UCR Architects and Engineers
Cal Poly Pomona Architecture (CPP ARC) students included Athenna Ann Lim, Yewon Hong, Romi Ann Grepo, Victor Daniel Macias, Emily To, Cheyenne Capener, Vi Phan, Stephanie Contreras, Stephanie Toro, Chelsea Steiner, Paola Murillo, Karla Vich, Julie Habib, Kenza Abourraja, Karen Venegas, Jose Luis Hernandez, Grace Liu, Rusxanne Londonio, Son Vu, Osvaldo Guiterrez Munoz, Sam Rubio, Sharifeh Diabdallah, Amaris Vasquez, Joseph Nandino, Emily Bandy, William Tan, Emily Ta, and Karla Camarena.
UCR ARTS team included Zaid Yousef, co-curator and exhibition designer, Cody Norris, senior preparator, Tim LeBlanc, assistant preparator, and Grace Saunders, preparator, along with Rene Balingit Jr., Samuel Cantrell, Ivy Son, and Jennifer Rodriguez Trujillo, along with guest co-curator Tyler Stallings." –
UCR Arts